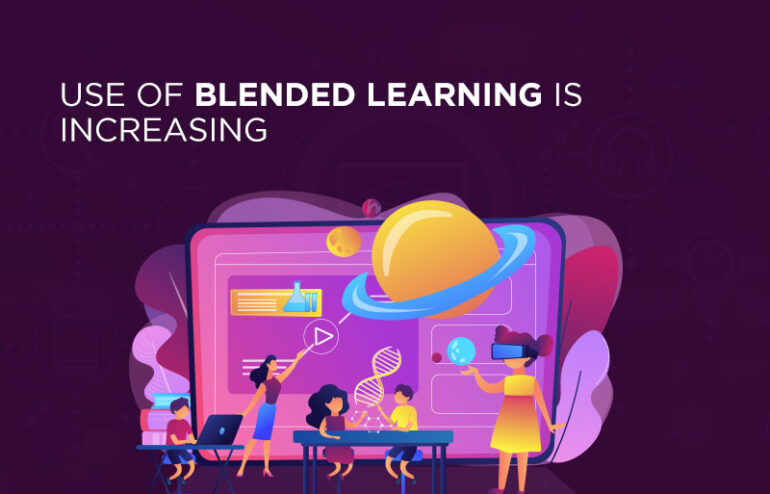 ---
Use of Blended learning is increasing
Blended classrooms are getting popular.
But what is blended learning all about?
But it all started with Covid 19 when organisations had to move to work from home. Due to work home, the companies have also been able to streamline their work.
Blended learning combines both offline learning i.e. which happens in classrooms and online learning. Blended learning is a mix of face-to-face learning and online learning. And blended learning consists of any parts including virtual classrooms, webinars, face-to-face training and one-to-one coaching.
The message while adopting blended learning is very clear, that is we must find opportunities to adapt in the face of adversity.
So, its a mix of personal learning and online learning. The main advantage of blended learning is that employees learning can be monitored by the office i.e. through video conferencing. So, it's like keeping a tab on what they are doing.
Higher efficiency


The University of Iowa did a study in the year 2018 to check how effective were blended classrooms i.e. classrooms conducted virtually. It was discovered that 95%of the students who were part of such programs got a grade C. The percentage of those who scored grade C were 82% in face-to-face training and 81% for online training. The advantage of blended elearning is that users can interact face-to-face with the learners and also have fun with quizzes and gamification. Therefore, these are the advantages of blended training:

All learning needs are taken care of


Blended learning ensures that all kinds of learning needs are satisfied. There might be some learners who learn through sound. For them, the elearning module has narration. But other learners learn through visual and writing/reading cues. Blended learning shows captions also through which visual learners can benefit. Learners who want writing/reading have quizzes, gamification, scenarios, roleplays, simulations to help them learn.

Increased use of video conferencing software


Due to the use of such software, face-to-face virtual sessions can be conducted. These sessions are quite useful once classrooms have been conducted on the same topic. The learners can ask questions in these sessions and also be a part of interactive activities. So, the blended learning sessions can also be started with asynchronous elearning and then followed by face-to-face virtual coaching.

Reduced costs


Cost reduction can be there in such blended learning programs. Its because instead of hiring trainers from outside, materials present online can be shown to the learners. This is an effective way to distribute information and save costs.

Saving the environment


It is also an advantage of blended learning. The learners don't submit assignments on paper. They submit assignments which are a part of the elearning module online. Also, all the learning material is given online and users can easily download it. Since no travel to a seminar hall or a classroom is required with this form of learning, travel costs are quite less.

There are also a lot of challenges before blended learning. Although the staff gets to learn as per its convenience, it needs to be monitored well. This monitoring has to be done in terms of creating a discussion board for every course and making sure employees complete the modules on time.
Employees can also be awarded for distinctive performance in modules.
With blended classrooms, employees benefit in terms of learning at their own pace. The companies also benefit due to reduced pollution and reduced costs.