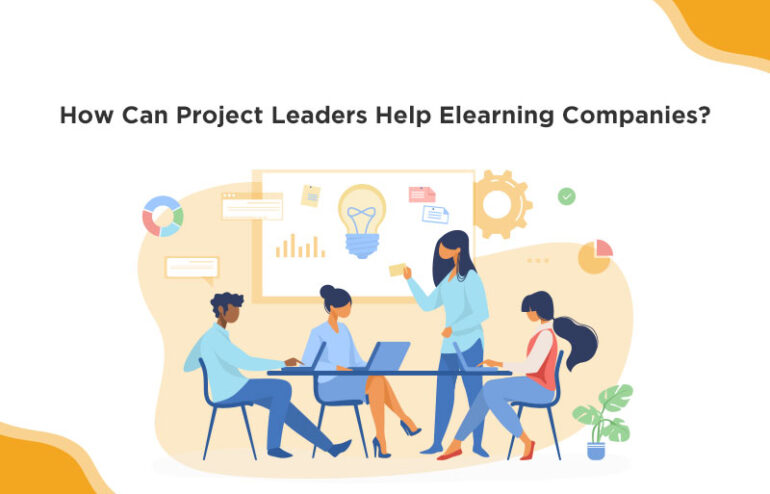 ---
How can project leaders help elearning companies? 
Elearning companies have a hard time preparing the modules, but it gets easy when the services of various kinds of project leaders are taken.  
There must be cooperation between people involved in the project, including subject matter experts, graphic designers, instructional designers, and even software developers. They have to work together to do a large number of jobs.
Once the production process is not completed clearly, the elearning project may not go as scheduled. There can be an enhancement in costs if the deliverable is not provided to the client on time. So what are some of the precautions elearning companies can take to ensure that everything goes on as intended?
Don't get obsessed with technology 
There has to be no obsession with technology. It's true that sometimes, developers might get fixated on using a particular kind of technology. But that should not happen. The focus must be on delivering the right kind of solution suited to the client's needs. After coming up with a storyboard, technology needs to be decided what is best for those needs.  
Making a list of project-based requirements 
Another way to have a result-oriented project is to make sure you understand what is to be attained, i.e., the end goal. Then, you need to decide about the various tasks that need to be part of the end goal.
So, several analyses of needs have to be conducted before you arrive at this end goal:
Analysis of needs 

This analysis aims to know what knowledge should be imparted to the learners. How must this elearning course affect the knowledge and the working caliber of these people?

Analysis of users 

You must know who is going to watch this course. What is known by them so that the elearning course further develops on this knowledge. How will they watch the course, on mobiles or their desktop PC?

Technology-based analysis

This analysis needs to decide upon the technical tools used for developing the course. Every authoring tool has a cost apart from the various resources required. The elearning company has to choose the resources based on their experience.

Analysis of resources
What must be the time devoted to the project? Is there availability of any content which can be used for this project? 
IDs have their vision and software engineers, their own
Elearning projects make the best use of software development and instructional design. The IDs have been trained to fulfill the academic goals with their learning experiences. That's true because they develop a storyboard based on what needs to be taught to the learners.
On the other hand, Software developers have a background in engineering. They are there to make sure that the vision of the IDs is executed as closely as possible. They are aware of all the technical tools. They can do the execution of software-related needs into correct coding.
However, this kind of duality in work can pose a problem. These approaches need to be brought together to enable the best in elearning development. Project leaders make sure that the gaps in these two approaches are closed.
These are some of the tips for elearning companies to execute their projects successfully.