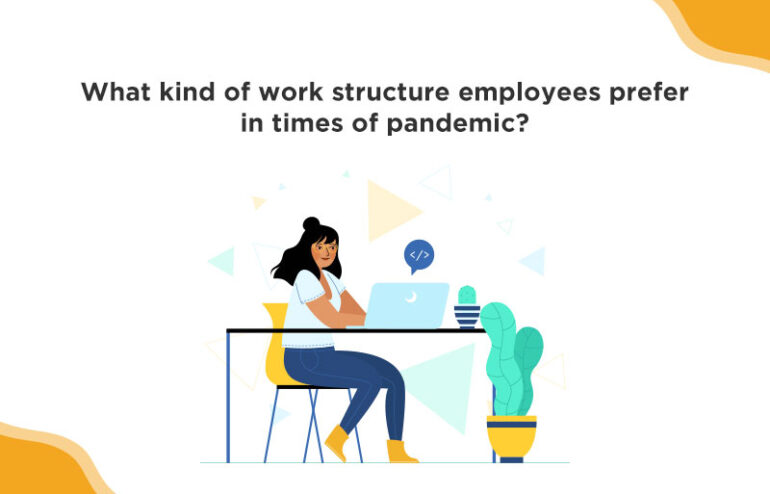 ---
What kind of work structure employees prefer in times of pandemic?
Employees in the US are working from homes. The rise in availability of vaccines has therefore become quite important so that workers can come to the office. However, workers are working from home and need an IT infrastructure that can allow them to work from remote places.
A study has happened which took a small sample. This sample included 1000 people.
It included Americans who depended on the internet to conduct their jobs and wanted businesses to introduce a work from home kind of scenario.
A large majority of respondents in this survey told that they would like remote work. Employees now want a hybrid model, they only want to come to the office when there is a requirement for it. So, they preferred to work from home for a long time. Its because employees have discovered the benefit of working from home like how it saved travel costs.
Due to Corona, a large number of employees had shifted base to rural areas. So, it was the responsibility of employers to make sure that the internet was available everywhere.
The survey also noted that events of 2020 have made sure that companies have allowed all employees to work from home. This has led to high needs for IT in every individual home-based office.
Also, although the employees are working from home they expect a lot of support from the company. 50% of work from home employees, allow support for important applications, 37% needing help for internet connectivity problems. 1/3rd of such employees also needed support for any new tools used by the company. Therefore it's necessary for companies that are allowing work from home to set clear procedures for employees who want to work from home.
Video calls are another cause of stress for the employees last year where they were fed up with screens getting frozen. The survey also proved that 30% of employees desired response from employers within 1 hour of reporting a problem.
Employees faced a lot of problems last year. 44% of them complained that they had internet connectivity problems. This proved to be quite frustrating for them. An organization AppNeta has clarified that businesses should be clear about response times to their employees working remotely. The businesses need to understand which critical applications need support from them and hence should offer help accordingly.
So, this proves that companies need to extend full-fledged support to employees who are working from home.