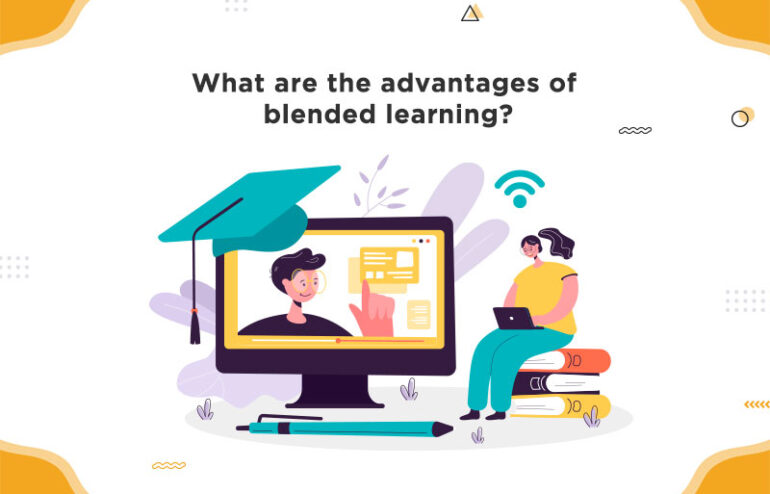 ---
What are the advantages of blended learning?
The Covid 19 pandemic has made sure everyone start working from home. But the companies had to still train employees during this time and blended learning was extremely useful.
Blended learning is about providing asynchronous and synchronous education to learners at different times.
Blended learning includes instructor-led training imparted to learners. This is of course done by learners being there for the classes. However, another facet of such learning includes online learning done virtually.
Blended learning is beneficial: While learners can benefit from in-person training, they can also check the notes taken down during such classes. It is because they can go through the elearning modules to simply revise the classroom training.
Increases revision: Blended learning can be used to make that training has the maximum impact. So, for example, if the learners have been given classroom training about how to use certain machinery like which button to press for a certain function, this can be complemented with digital simulations. But, somehow the learners could forget to note down something during the live presentation and in this case, they should be given a simulation. It's a recording of screencasts with the machine for executing a certain machinery based function. They can watch the simulation repeatedly for carrying out actual tasks with the machine and to refrain from any errors.
Blended learning is useful for changing behavioural skills: Since blended learning provides online learning material to the learners they can benefit from scenarios and games. They can boost their learning awareness with such tests. Learners can be taught behaviour skills through scenario-based learning and it's effective. For example, if there is a scenario in which a manager provides some positive feedback to his junior, but he responds negatively, so, you can teach learners how to behave in such a situation by asking their responses in a quiz. The same scenario can be used to teach managers also about how to deal with the negative reactions of their juniors. Since such scenarios are virtual, any response given by a learner to the post-scenario quizzes can't have any real-life consequences for them. The learners are also given reasonable explanations in such quizzes why certain responses are wrong or right. So, through scenario-based learning, all the classroom-based training can be reinforced.
Elearning in blended learning answers all the queries
The best part about blended learning is that sometimes the instructor may have very little time on his hand. So, he will just leave after taking the class, but learners might have a lot of doubts. So, they can consult the elearning part of blended learning to clarify their doubts. They can also attempt the quizzes included in such eLearning solutions to know why a certain response is correct or wrong. There is perfect reasoning provided in such quizzes for wrong and right answers.
Moreover, due to the use of elearning in blended learning, learners can also clarify their doubts with instructors through chatrooms and discussion boards included in an LMS.
Microlearning to boost instructor-led training
Microlearning courses are also useful for learners to make sure that they can supplement their learning in instructor-led training. Such microlearning videos could be prepared by the instructor himself including important points or they can be provided by your elearning solutions vendor. In the latter case, they can include important multimedia animations. Since such courses provide relevant information on just one topic they can be sent to learners after every class.
Further advantages of blended learning
Blended learning makes sure that the learners can check their knowledge gained through classroom training. It's because assessments in online learning can be accessed from any corner of the world. The students also get access to specialized elearning materials prepared by international level elearning solution providers.
Apart from that, it's ideal for those learners who can't focus in a classroom-based setting.
That is why blended learning is so much popular these days when learners can't attend offices and schools very much due to the pandemic.