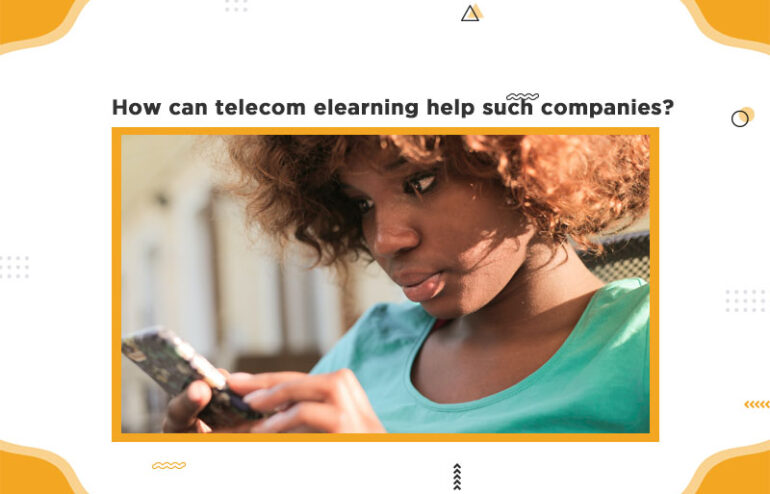 ---
How can telecom elearning help such companies?
The telecommunications industry all over the world has seen a dramatic change. It's because this industry has seen this growth because of privatization and competition due to which there have been considerable improvements and hence growth. There is training required to run a telecom store efficiently. This kind of training involves telecom elearning. There is a high need for telecom elearning because there are so many protocols and layers involved in the technologies in this sector.
Benefits of telecom eLearning
Training of a large number of employees: When we talk about the telecom providers in the world, their stores exist in every nook and corner. So they need telecom eLearning for all such store operators and international branches. It's because unlike classroom training, where more than a certain number of employees can't be accommodated in the classes, eLearning does not have such space constraints. Elearning can be accessed by thousands of employees at the same time that can use it to imbibe new concepts.
Telecom eLearning is important for dealers who sell the products of the company like SIM cards etc.
They should be aware of the prepaid and postpaid plans to give better deals to customers. Apart from the store dealers, the workers employed by them should also know the latest service plans, etc.
Uniform eLearning content: There is also standardization in the telecom elearning. This standardization is due to the standards given by the parent company. These standards are applied to the training content imparted by branches. So, when such training is developed, there is no need to change it in the future because it can be used to train new employees also. Hence, such telecom elearning is employed to train new and old employees also.

Customer service is important for telecom companies because in this way they can sell the maximum number of products. They can also create brand loyalty because of exceptional customer service. The telecom elearning is important because front line staff including the store dealers can be trained on how to understand a customer's body language and resolve their demands.

Training about new compliance rules: Ever since the GDPR rules got implemented by Europe stringent conditions have to be followed by telecom providers. Now, companies need to ensure that the customer data is saved so it can be supplied as and when the customers need it. So, the personally identifiable information of any customer needs to be stored in a convenient format for this purpose. Customers give a lot of confidential information when they buy SIM cards. The mobile operators have to make sure that even when customers are applying for SIM cards online, their data storage is safe. Their data processing procedures have to be strong for this purpose. Any kind of data breach can cost a company heavily in terms of reputation, so data access has to be monitored carefully. The companies have to ensure that the customer data is stored in an encrypted form so that it's safe.


Internet service providers have to maintain excess data security. They should get customer consent before using their data. If the individual subscribers of such services want the service provider to erase their data, it has to be done.
This is how telecom elearning can help companies in this domain boost their sales and follow compliance laws also.