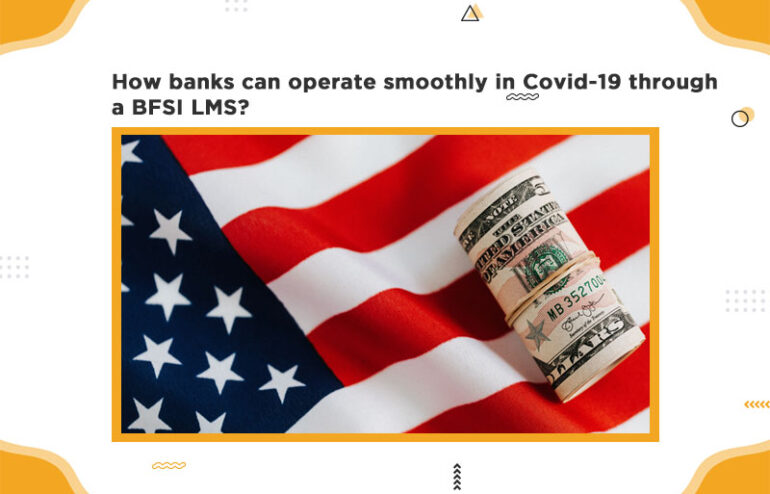 ---
How banks can operate smoothly in Covid-19 through a BFSI LMS?
There has been a lot of impact on banks owing to the Covid-19. This implies that banks will have to modify the technologies used to access customers. The banks cannot just rely on how their rivals are upgrading their technologies and whether they are benefiting from them. Banks have to focus on making the client experience feasible since the latter can't contact the banks due to social distancing norms. If banks want to decide to choose the right kind of technology, then customer experience is the key.
The banks have to use their BFSI LMS to train employees.
It's true that due to social distancing, customers can only visit banks when they feel safe. So some measures have to be taken.
The banks should introduce the following measures such as:
Shut down branches: Shut down the operations of small banks which don't have much customer flow. Banks should adopt a hub and spoke model which implies that they should conduct transactions through the main branches. The banks can also save costs because workers are working from home. So, offices can be closed down. Apart from that, climate control can also be closed down in such locations.
Reduce in-person appointments: The banks can also make sure that appointments have to be taken to visit a bank to meet an executive. When a banking customer applies for an appointment, check whether the visit can be handled through a customer service representative by phone. Some customer problems can be handled through emails avoiding customer visits altogether. This will reduce the crowding in the bank. In fact, the banks can issue some guidelines on a BFSI LMS for all the employees.
Reduce banking hours: A bank can also reduce the number of banking hours. This will ensure that the baking employees are safe. Apart from that, alternate days should be fixed for some set of employees. The employees can also be asked to take action on customer requests during golden hours i.e. fix visit hours for certain sections of the population who contract an infection. This way, they can visit the bank during the wee hours of the morning when there are fewer people. This information about golden hours can be given to customers on BFSI LMS. Remember these golden hours must be for vulnerable customers only for example those who are old and get the disease.
Have safety precautions for third-party service providers: Third-party service providers can also cause the disease. So, the banks need to decide which of these providers need to come to the office such as janitorial service providers. Opt for those providers who can provide the same services whether a lesser workforce or you can even ask for the Covid19 reports of their workers. Third-party service providers must have implemented some measures to ensure that their service provision is safe. All these details can be checked by bank executives and they can fill questionnaires on BFSI LMS.
Dealing with different kinds of customers
Convert credit card balances to home equity-based loans
The main problem before banks during these critical times is how to handle the customers. For example, some customers may be better equipped to face the infection rather than others either because of age or their finance. So, banks have customer segmentation data which can be of so much use during this time. Based on this data, they can decide, which customers need to be called to the banks and how to deal with others. Banks can ensure that the credit card balances are changed home equity lines to fee waivers. This will make sure that the customers can let go of credit card balances because they will be converted to home loans. They can get a certain amount of loan based on the values of their houses, but ultimately they have to pay such amounts. Introduce the rules for customers for such home-based loans on BFSI LMS.
Reduce monthly service fee for bank account holders
The banks can make sure that small businesses can get monthly service fee waivers. As the name suggests customers who have accounts with the banks have to pay this fee monthly. You can also allow early withdrawal of a certificate of deposit(CD) for customers who are running small businesses without imposing penalties. This way it would be easy for them to manage their liquidity.
As the Covid-19 has brought businesses to a standstill, banks have to cope up with defaults on loan repayments. The banks are also facing deposit issues because customers are not making any new deposits.
Corporate customers are using their credit lines. Its upto to the individual banks when to extend loans because the banks can lose their liquidity altogether.
Credit refinancing: Is it viable?
Many of the corporate customers are also seeking credit refinancing which implies a change in their loan repayments conditions like reduction in the interest rate or extension of the term. Many debtors are seeking such terms because of the slow business due to Covid-19. Hence banks only must approve such refinancing when their balance sheet is not getting affected. The banks have to maintain a minimum amount of liquidity. The banks have to be dependent on government factors like its help to provide credit refinancing.