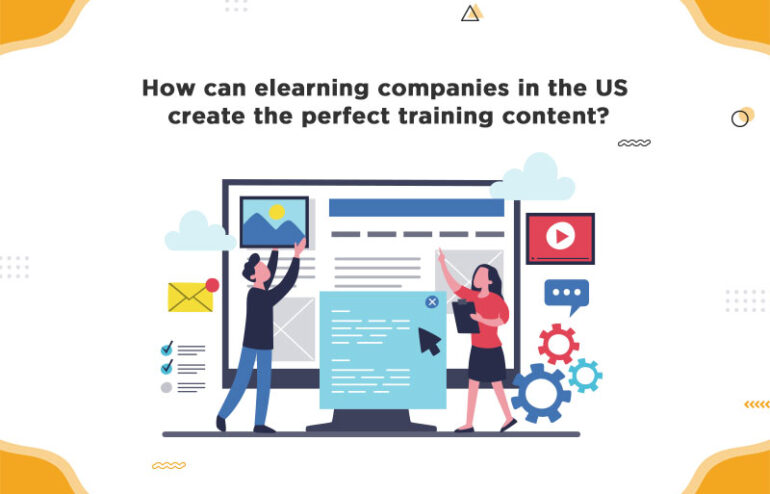 ---
How can elearning companies in the US create the perfect training content?
There is so much emphasis on training these days. Companies need to make sure that employees receive the aptest training to boost productivity. It's because employees are the biggest resource and companies can't ignore them. The companies find it challenging to train remotely working employees, but this trend is preferred by the latter because it provides them with a favorable work-life.
The training should be conducted regularly like every week. The e-learning companies in the US can provide you with such material which can be sent to employees at such intervals. To simplify things, employees should be sent automatic emails once the sales meeting gets completed on Zoom.
Make a note of training needs
The companies should make sure that the training gaps of employees are evaluated before the e-learning companies in the US prepare content.
You can't just beat around the bush when it comes to training requirements because funds get wasted when the e-learning content fails to address the audience's requirements. So, the end result is that even after going through the content the employees have to go through eternal resources. Hence, before the content preparation is commenced, it's better to ask the supervisors, employees either in person or through online surveys. Every employee has a Key Performance Indicator either in terms of sales goals or client handling, so reasons should be discovered as to why his performance does not meet these standards. The KPIs are set for middle management and executives so that they can plan their work schedule for a day accordingly, for example, how many calls an employee needs to make to close 1 sale per day.
The learners should hence be assessed based on their test scores. These tests should be a part of how well employees can attain their KPIs. When they know that their assessment scores matter to their superiors, they will take the learning seriously. Knowledge accumulation only happens when the learners' assessment scores are sent to their managers.
Schedule the e-learning content after the meeting
The employees have already taken some a break from their hectic domestic errands for meetings, and they can watch the e-learning content during that time. This way, when the employees are required to watch the e-learning content after the meeting, a trail can be kept about how many of them went through it.
So, creating an event calendar is inevitable for learners to assimilate learning as a part of the work routine. The managers are no longer in ambiguity whether a learner accessed the course or not.
Encourage in-person interactions
Employees are working from home, but they need to be congregated together despite their different routines. There can be the same location from where they can attend the video-conferencing call or during the same work hours. Employees might not be happy with colleagues coming to their homes. A shared workspace is the best possible option to make sure employees are together in a video call without invading someone's personal space.
Organize employee meets
Employees should not feel isolated when they are working from home. One of the most feasible ways to do this is to, have parties. This could be organized parties where invites are sent to MS Outlook to celebrate someone's marriage anniversary or birthday. The invitations should be sent in advance so time could be taken out from the chockablock schedules.
The employees forge new acquaintances in these meetings and they also look forward to them because they get to wear some sassy informal party wear. Make sure that these meetings take place once a month for the remote workforce. At such meetings, you can share presentations prepared by eLearning companies in the US. Such meetings are crucial because video conferencing does not allow to foster camaraderie, critical for office work.
Such meets can also be useful for discussing KPIs. It's because employees might feel that such goals are unrealistic. The employees fail to understand why they are burdened with such impractical targets. So, it's the job of a manager during such a meet to elaborate on the purpose of such KPIs and how they contribute to the business objectives. Elearning companies in the US are perfect for such content preparation. But, when the team feels that the market conditions have changed and so the business goals are not achievable now, they should be allowed to come forth with their opinions. The business targets can be reset and hence the employees feel inspired to achieve them and the minutes of such meets can be jotted down for future reference.