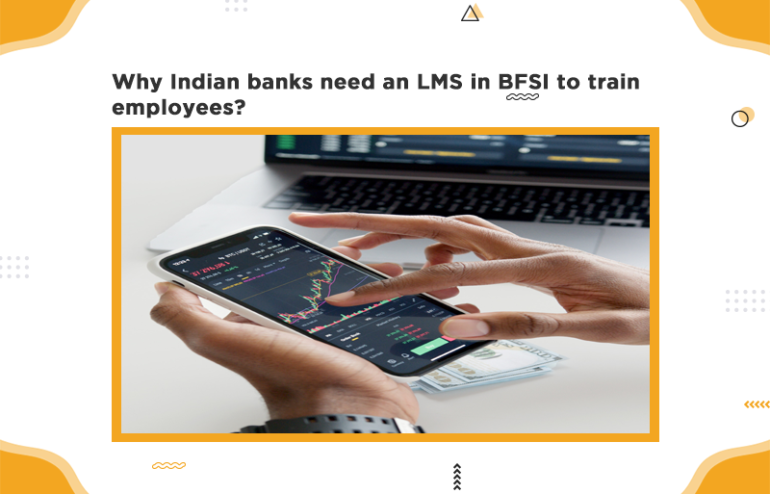 ---
Why Indian banks need an LMS in BFSI to train employees?
The banking sector has progressed rapidly in the last couple of years. This has happened due to transformation in the banking sector. That's why an LMS in BFSI is necessary to update employees about changing technologies. Banks are facing intense competition also because of the opening up of so many MNC banks in India.
The World Bank has reported that India is the country with the maximum number of commercial bank branches. So, banks have increased their hiring. The banks will require more and more employees to fill positions such as sales executives and customer care representatives. The growth in the banking sector can be attributed to changes introduced by the government also. The government has encouraged the reach of banks to the rural areas by the development of banking apps that can be accessed by villagers. There has been excessive digitalization by banks in the phase after demonetization.
The villagers can use their Aadhar cards to open up accounts in banks. There has been the introduction of Aadhar enabled payment system(AePS). This scheme makes sure that anyone whose bank account has been synced with his Aadhar card can conduct basic transactions with the help of a business correspondent who can be a grocery store owner. So, anyone can withdraw funds at the local grocery store with the aid of micro ATMs brought by the grocery owner. Bank Customers will be supposed to input their Aadhar card number for identity authentication. The customers can get the cash through the grocery owner after this identity verification or even make deposits to a bank.
So, it allows such business correspondents to act as banks for villagers where they can withdraw or deposit funds. The best part is that the bank customer/villager can only deposit or withdraw funds because apart from Aadhar numbers their fingerprints are used for identity verification. Banks need more technical professionals to deal with such micro ATM-based transactions.
These are the following roles for which training is needed:
Salespersons: Apart from technical representatives, banks also require personnel in sales. It's because customers in villages who were wary of opening accounts with banks due to their inability to withdraw/transfer funds can now do so with AePS. So, banks have to make sure that sales personnel know how to convince these naïve customers.

Therefore there is an increase in the use of LMS in BFSI to ensure that there is no paucity of skills when the banks are expanding their reach in rural areas.

Sales executives: These are also important positions in the bank where the employees are supposed to handle the bank products sales. They can look after the needs of customers and ask them to take loans, both short and long term. They can also sell banks' credit cards and other financial services such as overdraft facilities meant for current account holders.


That's why; an LMS in BFSI is required to make sure that recruits of banks know how to deal with their roles and responsibilities.

Investment representatives: There are investment representatives which hold important positions in banks because they guide customers about where to invest their funds. They chat with prospects on the phone and persuade them to invest in fixed deposits schemes of banks. They can also maintain data about how the bank is doing in terms of its assets and liabilities like whether anyone's defaulting on a loan. These representatives make sure that the customers are convinced to open accounts in banks. An LMS in BFSI ensures that the investment advisors can meet their targets. Moreover, the reason for implementing an LMS is that instead of verbal training, every new employee gets access to the same training material.

Need for compliance training
There can be problems when your employees have not been given the proper training, especially compliance and you have to pay fines for their noncompliance.

For example, for cheques withdrawals of more than Rs 5,00,000, RBI has introduced certain changes. These changes are known as the Positive Pay mechanism and as per them, the issuer of such cheques will have to provide the bank with certain information such as the name of the payee, the amount of the cheque, and the date on which the cheque has been issued. This information has to be submitted to the bank either through an SMS, Internet banking, etc for the bank to clear the cheque. This Positive Pay System has been implemented from January 1, 2021. So, the recruits have to be informed of all such compliance rules changes through an LMS in BFSI. They can be informed through updates sent to their phones and computers through email and mobile phone push notifications through the banking LMS.

The employees also feel comfortable adapting to changes when they have been trained. It has been calculated that banks face fewer losses due to errors of bank employees when they have trained. Banks can conduct a proper needs analysis and make sure that employees know all the technologies through such training.