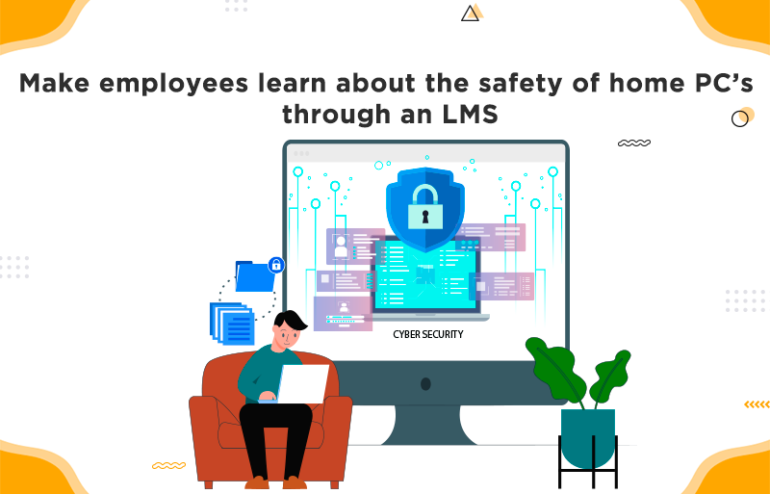 ---
Make employees learn about the safety of home PCs through an LMS
In our age, implementing an LMS is an absolute necessity to deliver knowledge to employees. Employees indeed need to be trained consistently to ensure that an organization reaches its peak level of success. Cybersecurity is quite important for organizations to make sure that the employees are safe in their workspace.
It is crucial because employees are working from home and use company servers to access data. Although VPNs are getting used to protect the company networks, they are still prone to attacks through user errors.
As per security reports, there has been a huge increase in mobile phishing attacks. There has been a huge rise in such attacks between the times since October 2019-March 2020. This has happened due to user mistakes.
Training software is required to make sure that employees protect company systems while working from home. Since it's so necessary, such kind of training can't be for a short duration.
The LMS needs to be updated with cybersecurity materials to ensure that the employees look for warning signs to protect themselves from phishing.
When a child is using your system
Cyber-attacks have increased because employees use social media also. But with proper cybersecurity training, employees can inform their companies on time about any potential threats. Employees need to know that their home devices can be hacked also. It can happen when someone hacks their home Wi-Fi.
For example, someone can introduce viruses into the home PC when it is used by a child to access a gaming site. That means compromising the system and giving access to VPN credentials. Even mobile phones used to access office emails can be hacked when a nefarious site is opened.
Make sure employees use the LMS to learn about cybersecurity
Through an LMS, employees can be taught about the rules of cybersecurity. An LMS can make sure that employees partake in games, where they are asked for their response to a phishing situation. An employee with the correct answer is rewarded with tokens. So, an employee with the maximum tokens can be given the awards such as "the best employee of the year". This way, employees can be encouraged to receive training about the latest phishing trends.
Businesses need to understand the importance of cybersecurity because if the LMS does not contain information on it, the whole system can be compromised. The employees must comprehend how important it is for them to protect the data of the company.
What to do when hackers have accessed the router?
The hackers can get access to the router's password. Once this password, is compromised, he can attack all the systems in your home. There are many signs of what happens after a router has been hacked:
Low bandwidth: The hacker will take advantage of your bandwidth, which implies you won't have much left to use. You will suffer from the problem of slow-loading sites, which can affect your work.
Compromise of firewall: Once the hacker can install some malware on your system, the firewall becomes disabled, leading malicious websites to open up on the system. Viruses can be unleashed on your computer, stealing all the critical data. They can also start operating the computer by themselves. They can also check all your internet activity to know which sites are getting accessed.
The employees of a company can be sent videos through the LMS to detect if any hacker has been accessing their home systems.
The employee has to follow certain basic steps:
Log into the computer: He has to log in to the computer using his own username and password. Once he has logged in, he then has to type the router's IP address in the browser's URL bar.
Find the connected devices: After that, you can check how many devices are logged into your network. There is a list of attached devices you can check. You might know some devices, but some of them are recognizable through their IP addresses. If you don't recognize the IP address of any device, this implies it is the device of a hacker. What to do, once you discover such an IP address. The best way is to reboot the router to disconnect such a device from your network.
The first thing you can do is reboot the router. This reset button is located on the back of this device. It's a hole with the words RESET mentioned on top of it. You have to stick something pointed in this hole to press the button. You have to make sure that this button stays pressed for 30 seconds.

After that release, the button and the router are restarted.

But after that, you have to call the ISP(Internet Service Provider) person at home, to configure the network and start the internet on your PC.
All these steps can be shown to employees in a Zoom call so that their home networks are safe.