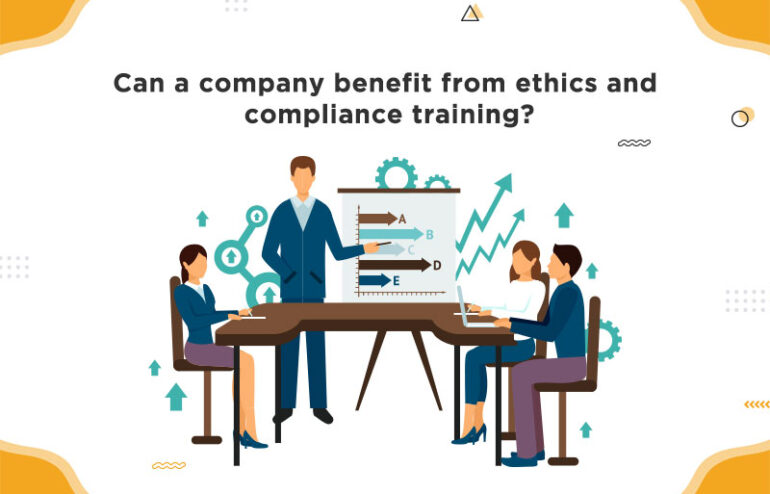 ---
Can a company benefit from ethics and compliance training?  
Ethics and compliance have become important matters for companies.
Any compliance fraud can lead to a lot of repercussions for a company because it can lose many customers apart from creating an adverse image for it. Hence, how can companies ensure that their compliance training programs are followed, knowing that any non-compliance can be detrimental to their success? The problem of following ethics and compliance regulations has intensified even more due to the multiple branches of multinational companies located in different countries. So, non-compliance can be caused by the actions of these stakeholders. The companies have started investing significantly in the implementation of compliance rules, which involves hiring compliance officers to oversee enterprise-wide compliance.
If employees have certain issues dealing with customers or other stakeholders, then they can get information through this program from the ethics compliance officer. He can act as an ombudsman when employees are worried about something unethical happening in the company.
Ethics and compliance training refers to educating the employees about the laws in place for their business domain, which can cause serious repercussions if not followed. Hence, employees must conduct their daily operations based on such compliance laws. 
The employees must have been given a handbook, which should include the company ethics. They must also sign an acknowledgement form that they comprehend everything written in the handbook.
Setting up a corporate compliance team 
Organizations can only take matters into their own hands when the employees are evaluated continuously. Apart from that, any changes in compliance rules must be provided to all departments. The businesses must be ready to provide employees with ad-hoc assessments to know how much they are aware of the ethics and compliance updates. A corporate compliance team is a necessity that can ensure that all the departments are taking their compliance processes quite sincerely to avoid any violation.
Hence, for this purpose the ethics and compliance training of management is necessary. 
In fact, the senior employees should be continuously reminded of the ethical behavior by issuing a memorandum to them. When its copies are pasted on the bulletin board, employees know what is expected of them when dealing with customers and vendors. The managers should be informed repeatedly that the company is an equal opportunity employer and any applicant cannot be rejected on basis of his caste, color, religion, sexuality.
Taking timely action 
The organization should be willing to act in time because any violation can cost it heavily. Hence, the businesses must have established processes so that it is easy to detect the source of non-compliance e.g., automated tools can be used for this purpose. There might be many branches of a company, but it is crucial to ensure that the compliance procedures have been developed considering the location. When the policies can be easily followed, there are no gaps in sticking to them. 
Establishing ethics and compliance hotlines 
Employees can become more compliant when they are given opportunities to complain about any non-compliance, which boosts their confidence in the system. Hence, a company can have hotline numbers where employees can report any incidents of bribery or discrimination they have seen. Once the complaint has been filed, the management can see to it that justice is done. Often giving the employees the freedom to complain can help organizations prevent the development of such conduct into something big in the future. 
Assessing what are the chances of a compliance risk 
The companies should be able to categorize compliance risks caused due to non-violations. It is because once such risks have been segregated, the companies can then see whether the internal controls for their prevention are sufficient or not. Based on the penalties levied for non-compliance in a certain geography, process, or business(impact) there can be a separation of compliance risks. The organizations can also divide risks based on the probability of their occurrence. Hence, controls can be devised and evaluated based on the effect and the likelihood of compliance risks. 
Businesses have a lot at stake as far as compliance risks are concerned. So, no business can ensure that it can take care of them overnight because employees can find loopholes. Moreover, new compliance risks arise overtime when the laws change. Hence, businesses must change their compliance goals over time when there is law modification. They also must use the updated technology to attain these goals, check the results and if there is a lack of compliance, check the control in place and upgrade them. 
Set up an ethics program
Once a company has an ethics program, the employees and stakeholders can be taught through it. An ethics program can inform employees about how much value of gifts they can accept from vendors because an excess amount would constitute a bribe. There should also be certain occasions mentioned on which employees are allowed to get gifts from vendors.