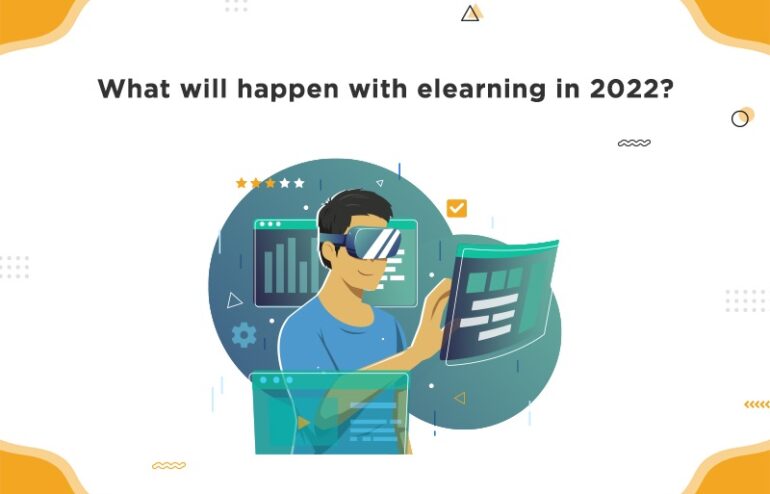 ---
What will happen with e-learning in 2022?
Yes, indeed, e-learning is here to stay with or without the pandemic and its growth in the corporate domain would be by 250% till 2026.
Why is e-learning here to stay?
E-learning became popular in the early 1990s when the internet was invented, and since there has been a growth of 900% in revenues.
E-learning has been growing in the years before the pandemic and as compared to 1995, instead of just 4%, 80% of employers are reliant on e-learning since 2011 which is phenomenal growth.
Even before the pandemic struck the world in 2020, e-learning had already made significant progress because 77% of US companies were using it in 2017. By 2022 e-learning industry is forecasted to reach more than $240 billion USD. 
There has been a rise in the gig economy due to the pandemic, hence e-learning has become more crucial for teaching employees some relevant skills. Learning through e-learning also requires lesser employee time by 60%, hence they have more time for other activities.
When the learners' attention span is lower thanks to working from home, video-based learning becomes a necessity. In a survey(Wyzowl, 2021), 69% of users have said that they like to consume content through videos as compared to text or an article(18%).
It's because videos capture the attention of users, especially the interactive ones. The learners stay hooked to the video because it contains assessments too for testing their knowledge.
No lack of consumer demand in 2022
Although Omicron has been detected, its spread has not been so fast due to which the economic growth won't be hindered. Companies are now used to consumers shopping online, and hence their business is not going to be affected by the pandemic. Offices have now started adopting the hybrid work place models and, there won't be any supply-side problems because manufacturing would continue despite the new virus variant.
Hence, Artificial intelligence will play a crucial role because online shopping will continue to happen. It's because the companies will have to use it for targeting online ads according to individuals based on which portal they use etc. Artificial intelligence will also decide how much data gathered through website forms is useful, and the rest would be discarded.
Hence, companies will be able to scrutinize data and base their marketing efforts on it using factors such as website visitor demographics etc.
E-learning trends in 2022
Higher use of artificial intelligence:
The e-learning is going to get a boost in 2022 because of the increasing corporate focus on re-skilling because of an anticipated change in compliance laws due to this new virus. So the businesses have to be prepared to provide any kind of training to employees. Hence, the companies are deciding how to shape up their strategy for growth, where e-learning plays a crucial factor. E-learning has always been a favorite with corporate for teaching employees because they are dispersed all over the world.  Companies are now dealing with extraordinary volumes of data regarding the learning behavior of employees, and only artificial intelligence can help in capitalizing on it.
It's because they have such huge data available before them through the internet, but they have to organize it before creating a storyboard based on it. So, due to using artificial intelligence, the course creators don't have to go through each piece of data, trying to fit it in a larger hierarchy.
Companies will have to modify the format of their course content depending on the availability of time with the employees.
The essence of e-learning in 2021 was microlearning where information was presented in short length so that it had easier accessibility for employees. It's because increased competition means employees can't waste any time in getting their hands on super-vital information because any delay means lost customers.
Greater use of VILT with increased learners communication too :
Synchronous sessions will be used in 2022 because learners must be given an opportunity to talk too. 
The facilitator will have to play an enhanced role in such sessions in 2022 where they will have to allow one learner to speak at a time and answer their questions. Hence, VILT will be there, but it will involve more interactivity.
However, asynchronous learning will also play a vital factor in 2022 because due to increasing VILT sessions, organizations won't have enough trainers for everyone. Therefore, blended learning will be more popular in the future where learners are given opportunities to get rid of befuddling queries through sessions with trainers but study the materials such as PDFs whenever they have time.