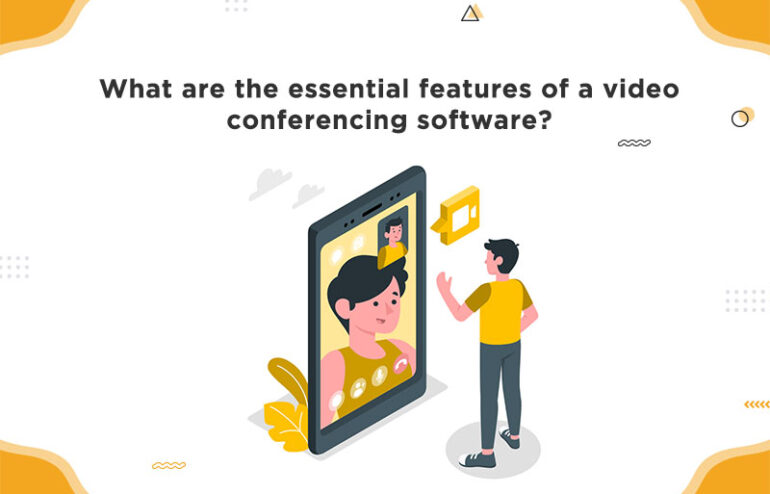 ---
What are the essential features of a video conferencing software?
Video conferencing software has become a mainstay technique for companies who want the best connectivity with employees and other stakeholders.
But they should see to it, that the video conference software used by them has the best features available. Video conferencing software can ensure that the meetings are conducted online, with all the participants able to connect through webcam-enabled PCs. This is an ideal solution for global teams who can talk to each other during important events. When decision-making requires all the members of a team, video conferencing is the only way to take their opinion. Also, since it can be recorded it can be used as solid evidence when the need arises in the future, so it's as good as written communication.
Video conferencing can ensure that the company can interact with remote employees, which is sometimes crucial for ensuring the latter's productivity. When you compare the travel costs which are required for such employees to come to the company, then video conferencing is a better option because it just requires an internet costs.
It also ensures that office employees can collaborate on projects with employees working from home. The video conferencing solutions have given companies a certain level of confidence because they can hire an online workforce and monitor them for work.
These are the following features that are inevitable in video conference software:
Through this the various participants in a video conference call share their screens which are perfect when they want to discuss some problem in certain software.
This kind of feature is also useful when a certain graphic designer wants to get approval regarding his work from the seniors and can share the software screen with them, making changes in real-time. So, any kind of software screen sharing is useful for employees who want to increase their hard skills and can benefit from their senior having spare time.
Video conferencing software must also have other features like recording calls because they can be used for training employees in the future. Sometimes, employees ask relevant questions during a video conferencing call and hence such call recordings can be used for future training. This kind of call can also be included in the media library of the company and used for employee onboarding. Apart from that, they can also be broken into smaller modules and used as JIT resources. Video editing tools can be used to make such recordings more interesting, by including transitions, etc.
A company's video calls must also convey its brand through the integration of the logo on the screen. Yes, that's possible when you have customization options in the video conferencing software. Instead, it's better, that when you select a vendor through the RFP's submitted by them, the cost of such customization is asked for.
Apart from that, the software must have ease of use for the employees. It's because they might want to add their images, description, and title, and organization name on the participants' profile pictures. Apart from that, such information can also be a part of the invite attendee email so that the invitees can give their consent depending on the speaker.
Easy accessibility of such software on every device
In fact, since most of the attendees like to attend webinars on smartphones due to the inaccessibility of the laptops either because they are on a leave or are traveling, therefore, video conferencing software should be available on a phone through an app.
The seamless accessibility of the video conferencing software is also essential because sometimes the participants want to join from different locations. Hence, they should be able to join regardless of the IP address and through any kind of device, be it an android or IOS based smartphone.
The video conferencing software must have easy navigation and a user interface so that the users can easily switch off their video or audio options.
Noise Block is also an essential feature so that if someone does not mute his microphone despite not talking, unwanted noises like keyboard typing are transmitted and disrupt the speaker. But sometimes, the listeners are too busy taking notes that they forget to mute the audio. Hence, such technology ensures that when someone is not talking in a webinar, the microphone is automatically muted.
Speaker tracking is also useful because it allows participants to see his/her body language. Hence, the speakers might be accompanied by a group and everyone is taking turns to speak and hence the Zoom feature is essential to find the body language of one speaker. With facilities, like an advanced microphone, the VC software finds out who is speaking and then enlarges him for better viewing of the listeners.
The participants must also be able to share documents and apart from themselves allow others to write on them like a whiteboard. This way, participants can highlight their problems during the presentation of a document. This is an ideal feature for reviewing content or new policy guidelines formulated by the company's management.