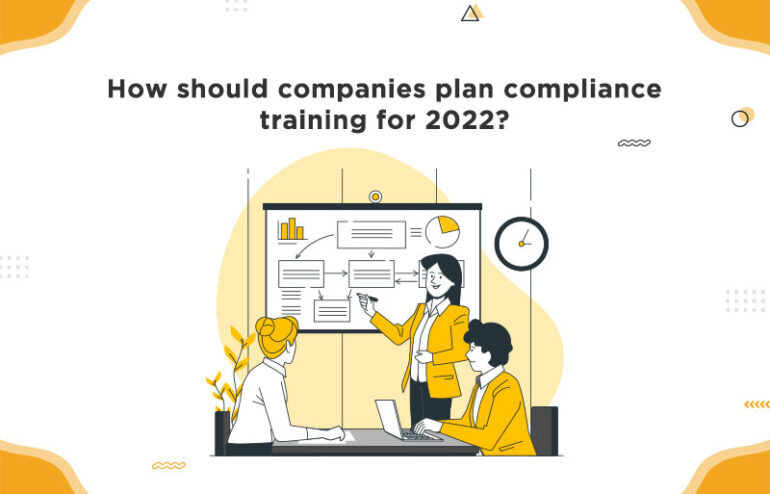 ---
How should companies plan compliance training for 2022?  
The New Year is finally here and the companies have to make some changes to their training routine. It's better to understand what the employees want their training to be, rather than expecting them to comply. When it comes to online training, employees don't want to take time out for it despite knowing the repercussions. This is normal employee psychology that when something is expected out of them, they don't correspond. 
Check the current online training plan 
The companies should evaluate their current training plan, whether they are effective in terms of being accessible to the target audience. There could be a problem that the training is not reaching the right departments who need to be guided about the new compliance rules. There should also be a framework when the training is imparted because, if the laws have already been enacted, it should be done as soon as possible. 
Break it up into easier to understand parts 
For companies, it's better that they don't teach employees everything at once, instead, they are expected to go through microlearning modules once a week or a fortnight. That way, they find taking online training enjoyable. Also, the training events don't have to be passive where the learners don't have chances to give any feedback. Hence, it's better that there should be live sessions where learners can ask questions from their peers and trainers. They can also be shown news clippings in the form of videos and if they can't make any sense out of them, they are free to ask.  
It's important to impart knowledge about compliance rules in the form of online training, but the learners must have choices. Since the learners have different patterns of grasping information, they can choose the course format according to their needs video audio, or text, especially one or two modules. It's because the entire course can't be converted to different formats for the ease of learners. Moreover, a compliance training course can have elective units too for different departments. For example, there can be a general portion of the course that is necessary for everyone. There can be modules that everyone has the option of taking depending on their department. 
Compensate employees for training 
Apart from that, employers must make sure that employees are suitably compensated for their time hours devoted to the course even if it's after office hours because and office has no count of such time. You can't punish employees by not paying them for any extra time taken in completing the course. When companies are thinking of planning their 2022 online training programs, they should take into accordance those areas where they are the most vulnerable. Those are the areas where employees need to be trained depending on changes in the policies, and after doing an internal risk assessment as per current compliance rules. It's better to include the departmental heads into such discussion because they know the latest and the existing compliance rules and hence where a business might not be adhering to them. 
It's better that once you have identified the areas where the organization might not be following compliance rules, it's also important to assess the possibility of each risk and what kind of impact will it have. If there is not much probability of a risk, then the company might not implement its online training especially if the latter is expensive. 
Companies need to outsource their compliance online training needs to e-learning companies USA because sometimes there are massive changes in the laws and the course needs to be prepared from scratch. Anyway, if only some new modules need to be included even then the content creators in businesses might not know how to use e-learning authoring tools such as Lectora, Storyline, etc.
Having an external training provider relieves the company from all the stress of updating the content due to any policy changes. 
What must the 2022 compliance training include?
Due to the pandemic, compliance rules have been changing frequently, making it tougher for employers to ensure that they are updated. Covered Employers have to mandatorily implement an emergency temporary standard(ETS) Covid-19 policy till January 10th. This policy requires what employers will do for either testing employees or vaccinating them. Those employees who are not interested in getting vaccinated due to their religious beliefs or other reasons have to wear masks at the workplace provided by the employer and submit proof of their negative Covid-19 status on a weekly basis. The employers have to start checking the employees for the latter's vaccination statuses from January 10th and start creating an ETS policy depending on that. The employers who are liable to draft the ETS are those who have employees working from offices and not from homes or work-sharing spaces. In case an employer has only one employee, the former is not likely to create such a policy. 
The ETS should be shown to the employees because that way they can have complete assurance that their organization has a safe environment. 
This policy must include:
The rules for vaccination i.e., whether the employees should have been administered with two or three doses. 

How the employees are supposed to show their status of vaccination whether through a certificate. 

How can an employee get paid for any time he takes off to get vaccinated?

What does an organization plan to do with an employee in case he is diagnosed with this disease? 

Are any employees exempt from vaccination due to their sickness or religious ideologies causing them to take some time in getting the vaccine shot ? 

That's why compliance training has become more necessary for companies and employees now because of the latter don't get them vaccinated without any reasonable explanation, their coworkers can complain causing problems for the company.