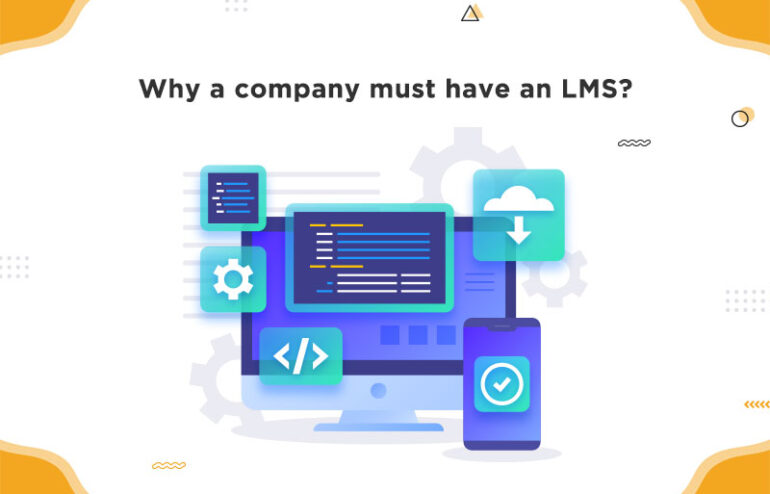 ---
Why a company must have an LMS?  
With time, companies have started focusing on providing employees with work from home opportunities because employees want a perfect work-life balance. Companies have started providing all kinds of easy options to employees when they are working from home, which includes online meetings and training also. The need for working from home options has been necessitated because of the pandemic and the ensuing travel restrictions. These are the reasons why a company must have an LMS to manage employees' training needs continuously:
Hire employees through an LMS
Nowadays, companies have no option but to use an LMS to empower employees with knowledge, however, such software can also be used for filling up open positions.
Companies have a lot of opportunities before themselves through an LMS when it comes to hiring candidates for new roles.
They can organize live events which ensure that the employees participate in them, and recruitment costs are saved. A company can use the LMS to advertise the event so that no employee misses them. But make sure that after such events, a survey is also sent out to the employees through emails, so anyone absent from the event is still considered for the role.  
Provide help to job candidates 
Companies can also use LMS in another way to retain talent on board by adding new resources for them in a timely fashion. This is a one-time job to create such content. The recruits can consult the LMS, instead of turning to their seniors for answers, which takes time.
This kind of LMS content covers everything related to onboarding such as company policy and how to finish crucial tasks. When candidates have access to such a pool of resources even before they are hired, they can give better performance during job interviews and tests. These kinds of resources can also include quizzes that can be attempted by shortlisted candidates and show how they are a fit for their new role.
Provide VILT based mentoring to employees 
The employees benefit when a company has an LMS because there are simulations and games in its content which allow them to imbibe concepts through learning by doing. The LMS has different tools which can allow companies to include senior employees as mentors, provide one-to-one coaching to employees through VILT sessions. The best part is that since the mentor has ample experience for the job, he knows how to train new hires.
The company can also establish some guidelines for such VILT sessions so that employees don't take much time with the mentor. When employees have the confidence that they have someone look into their performance so that they don't lag, they have the incentive to not leave a company.
Employees can discover their hidden potential 
With such mentoring, they can address all loopholes in their performance and grow further. The company employees might get better opportunities to detect talents when they are given simulations in which they can participate and realize that they are good at things like negotiation. This way, they can opt for reskilling and opt for specialized roles. Companies have to provide the proper learning and development opportunities to employees so that they are not taken up by competitors. Through the right kind of training only, employees can meet their career expectations. Companies can also organize meet and greet events for scouting talent for employees, including the public.
How can an LMS ensure a better customer experience?
Prepare employees for handling critical situations 
The employees must be trained to face specific situations, which is necessary as every time they can't ask managers for approval because that might mean losing clients. So, companies must explain the emergency protocol to employees and allow them to take decisions on their own. For example, if a client places an order through a phone and can't access his email, then it should be approved and sent. In this situation, the employee should not wait to get an email from the client before dispatching his order.
So, a company should explain methodologies to employees how they can adhere to the compliance rules without endangering sales.
Employees have to be taught how they must take customer orders on the phone rather than on the website. It can happen in situations where the customer might not have a stable internet connection. The employees must understand the customer and if his situation is real, then jot down all his information and explain the repercussions of placing an order on the phone. For example, there might be a late delivery of the product in this situation.
The employee should also not make any false promises to the customer in any situation, and convey realistic possibilities to him.
Measure Net Promoter Scores  and then develop better training
Companies can take feedback from customers to gauge whether their employee training program is a success or not. Net promoter scores can be effectively used in this regard because they can let you know how many customers will stick to your service/product or not be lured by competitors. After a purchase, the customers are asked the possibility of them referring your product/service to a friend/relative on a scale of 1-10. So, if the customers are pleased with your offer, then they will give you a score of 9-10. Such customers are promoters who are not going to stop buying your brand and advising others about it.
But those customers who give a score from 7-8 have a possibility of moving away from your brand in the future. If the customers have awarded scores between 0-6(detractors), then they will not buy from you in the future and will also damage your reputation. Companies must ask reasons from the detractors as to why they have given low scores and hence develop training material for CSR on the loopholes as pointed by the former. Moreover, a company can get a net promoter score (NPS) by deleting the percentage of detractors from that of promoters. A low NPS is a cause of concern for companies.
Hence, employees can be trained effectively when a company is using NPS because it is a true measurement of customer experience. 
When employees are asked why their performance is not up to the mark, they can pinpoint loopholes in training, which leads to rectification of training materials. Hence, companies can develop reliable training programs which yield expected results in terms of employee performance. Managers can continuously track employees on their use of the LMS through analytics, which lets them know whether it is just one worker who is unable to perform assessments or many of them.