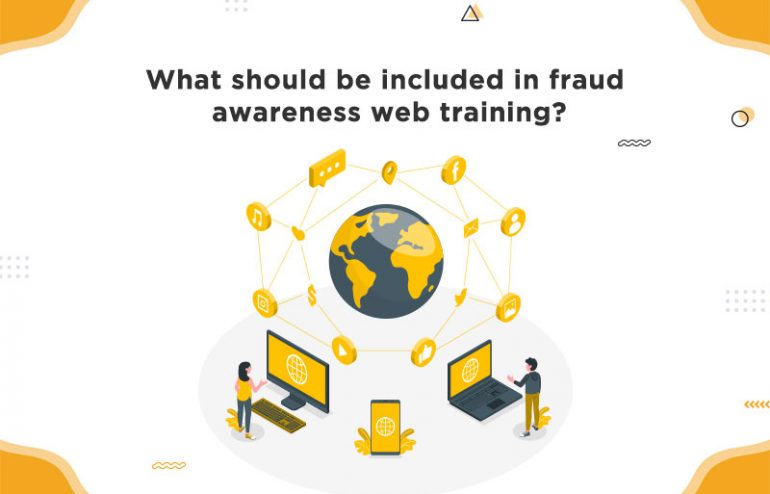 ---
What should be included in fraud awareness web training?
Retail companies must be quite observant about preventing fraud involving money loss. The companies must ensure that they have proper controls in place to prevent the skimming of funds by employees.
Hence, all Employees should know the basic accounting principles and how to enter transactions into the computer so that the company can reduce dependence on a single person, which increases the scope for fraud.
The companies should also see that instead of a single approving authority, there should be multiple authorities to ensure proper vigilance before any expenses are approved.
In fact, there should also be a reconciliation of accounts, including bank statements, and multiple employees should be trained, so that any fraud can be detected in time.
Handling internal frauds through web training
Any employee who is handling the company's expenses and is responsible for issuing checks must be monitored so that he is not doing the fraudulent activity. They should not use credit cards for making payments without the knowledge of higher-level personnel.
In a retail company, invoicing requires a lot of supervision because employees might be issuing checks when the goods have never been properly received.
The companies, therefore, must have web training to ensure that invoicing is done properly, and the payments are only issued once the stock has been counted as per the bill.
There should be proper controls so that the payments are not released for damaged goods. If any employee suspects that fraud invoicing is being done, that payments are being made for goods or services not supplied, then it's his job to notify the management.
But sometimes, the whistleblower might be accusing someone because of his malice against the alleged perpetrator. Also, anyone who wants to report something wrong happening within the premises should be promised confidentiality so that he knows his identity will be concealed. 2D simulations in web training are the best way to teach employees how to respond in situations where they detect something unacceptable is happening in an organization.
The seller can also provide the buyer with inflated bills. Then it's the job of the employees to check the company is incurring the right expenses and not paying more than the actual prices.
Sometimes, when a single person is involved in approving the invoices, it can cause him to get some kickback (bribe) so that he consents to the wrong bill provided by the seller and pockets in some of his profits. Kickback is a common practice in government organizations, where a person in a position to approve the winner of tenders and government contracts receives kickbacks so that he chooses one contestant over another
Handling external frauds: Transactions done through identity thefts
But when it comes to external fraud, the companies must be more watchful. The company should also be judicious about payments from the buyers because the cashier should verify the credit card at the point of sales transactions.
Many companies are victims of fraud when someone takes credit using identity fraud, and the company is left with staggering bills with nobody to hold responsible. An employee should ask for proof of identity verification before accepting customer payments. However, a customer wants to make payments through a credit card but has no way to prove that it's his card, then an employee should inform the management.
There are some red flags which the employees of retail companies can use to discover identity theft. Retail companies have been extending credit to customers to facilitate sales for customers who don't have the available cash with them. But the businesses also face a risk when customers don't pay their credit card bills, causing them to lose their sales receipts. This can happen to retail stores where such identity thieves use credit cards.
The stores suffer when the genuine owners of such stolen cards refuse to pay the sales bills. There should be systems to check the identity of such customers because the liability lies with the merchant when the customer is making a cardless payment in an online retail store. Hence, the employees who conduct ecommerce transactions must ensure that the customers using their credit card numbers must be verifiable.
Only web training can empower the employees of such companies to use the systems in place. There can be geolocation systems embedded in the ecommerce websites which ensure that the customer's location is tracked when he is using the credit card.
Such systems allow the company to know whether a real credit card owner is using the instrument to make a payment and not someone who has stolen his identity.
The retailers must have web training so that employees at the point of sales terminals also use chip card reading machines for reading cards with the anti-fraud microchip. Credit cards started getting embedded with such security chips in 2015. The customer liability is not more than 50 dollars in such transactions.
If the business is not using that machine and somehow comes across a stolen credit card, then the fraudulent transaction is the business's liability, not the bank's.
Gift card fraud happen when someone uses unauthorized gift card details. It can cause problems because the one whose gift card has been used can ask for a chargeback from the company. That's why; store clerks must ensure that they verify the physical copy of the gift card before accepting it. A customer who just has the gift card details can't be allowed to use it.
In the retail industry, a very common problem called Wardrobing is faced by employees when customers return used products.  It can happen when an employee fails to recognize that the item has already been used because it has a tag and approves it for a refund. Hence, the stores can ensure that this problem is eradicated when the store clerks are trained to recognize the signs of usage and don't accept returns for such items. Once trained about the return policy, including how returns are to be accepted, employees can prevent losses to a retail store because such used items can't be resold. 
Hence, web training for using such card reading machines is essential for retail stores to avoid identity theft-based transactions.